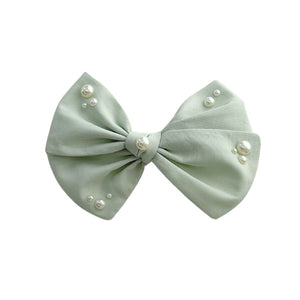 We hand glue each pearl with special adhesive for the most beautiful elegant look. The soft and beautiful cotton material will compliment any outfit. Each bow is hand cut, sewn and hand tied. We make these bows with care so there is no tightness or itchiness, they are very soft and comfortable.


*Bow Size: is 5"
*Material: 100% cotton
*Can be attached to a nylon headband or a alligator clip.
*Care: Hand-wash.